Overview

Features

Tech Spec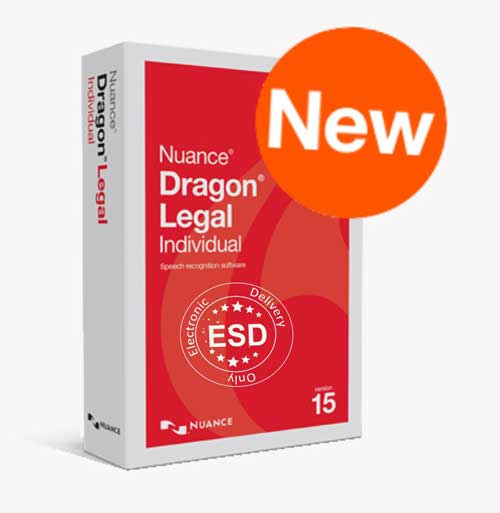 Dragon 15 Legal ESD offers a faster, more efficient way for legal professionals to create contracts, dictate briefs, and draft court documents or email messages. You can turn your voice into text three times faster than most people type — with up to 99% accuracy using virtually any Windows-based application. Dragon Legal 15 ESD offers a preconfigured legal vocabulary that includes over 30,000 legal specific terms and phrases, and it even formats legal citations. Create custom voice commands to instantly build and format templates for contracts or other legal documents or automate complex tasks on your computer with a spoken word or phrase. Improved third-party correction features streamline the editing and correction process to dramatically decrease turnaround time and reduce dependencies on support staff.
For more information visit our dedicated page: http://dragonlegal.in
Up to 99% speech recognition accuracy right out of the box, with customised SpIcons Indian Legal solution it also understand words used in Indian judicial system and formating

Preconfigured vocabulary that includes more than 30,000 legal terms .

Ability to import/export custom word lists that can include commonly used proper names or Legal industry-specific terminology

Creation of documents, reports, spreadsheets, or messages just by speaking.

Ability to compose emails or search the Web for information faster than ever with Dragon Voice Shortcuts.

Nuance Text-to-Speech technology that reads on-screen text in human-sounding synthesized speech.

Dragon Voice Shortcuts that let you create email, schedule appointments, and search your desktop using simple voice commands.

Creation of custom commands for inserting frequently used text and graphics or automating routine data entry.

Ability to use Dragon with a Nuance-approved digital voice recorder and automatically transcribe your recorded voice.

Support for multiple audio input devices; use Dragon with a wireless microphone, including Bluetooth.

Support for Microsoft Word, Microsoft Excel, Microsoft Outlook, Internet Explorer, and virtually any other Windows application.

Audio playback of your dictation with the associated transcription highlighted on the screen for easier proofreading and correction.

Third-party correction features .

Dragon Voice Notations feature that allow the speaker to make side comments that are saved as part of the recorded dictation but do not appear as part of the transcribed text.

Support for custom voice commands to quickly insert frequently used text and graphics.

Dragon profiles centralized on the network ("Roaming" configuration).

Ability to create AutoTranscribe Folder Agent.
System Requirements
The install process checks that your system meets the minimum requirements; if they are not met, installation will fail.
Note
Closing all programs before installing is recommended. In addition, consider shutting down and restarting your computer before an installation
Non-medical editions of Dragon do not support dictation directly into Electronic Medical Record (EMR) systems – for EMR support, please use Dragon Medical Edition
RAM
Minimum 4 GB & Higher RAM is recommended
CPU
Intel® dual core or equivalent AMD processor. Faster processors yield faster performance.
IMPORTANT:SSE2 instruction set is required
Processor Cache
We recommend 2 MB L2 cache. (Minimum: 512 KB)
Free hard disk space
8 GB
If installing from a disk: 3.2 GB (4 GB for localized non-English versions) If installing from a download: three times as much space is initially needed (after the download is unpacked and installation completes, temporary files can be removed from the system)
Supported Operating Systems:
Supported Operating Systems: Windows 7, 8.1, 10 (32- and 64-bit)