Overview

Features

Benefits in detail

Tech Spec
Dragon Home 15.0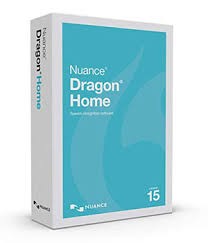 Get more done on your PC by using your voice
Dictate documents, send email, search the Web, and more - at home or in school
• The most intelligent speech recognition solution on the market
• Up to 99% accurate from installation
• Dictate, edit and format documents with ease
• Designed using Nuance Deep Learning™ technology
• Easily adapts to different accents
• Works in noisy environments
Product Overview
Dragon Home v15 speech recognition helps you get more done on your PC by voice. Dictate documents, send email, search the Web, and more. Designed using Nuance Deep Learning technology, it delivers up to 99% recognition accuracy, adapts to different accents, and even works in noisy environments.
Search for a recipe while chopping onions or complete a homework assignment with your hands behind your head.
Start using Dragon within minutes of opening the box. The enhanced intuitive design and helpful tutorials make it easy to use and master working with Dragon.
Check your assignments, memos and letters quickly and easily. Dragon's natural-sounding text-to-speech or audio playback of your own dictation takes the reading out of proofreading.
WHAT's NEW
Deep Learning Technology for improved accuracy
Improved Accuracy: Dragon Home is the most intelligent speech recognition solution available. With a next generation speech engine with the latest Nuance® Deep Learning™ technology, it delivers up to 99% recognition accuracy as soon as you start dictating, without the need for training. Dragon speech recognition technology constantly learns and adapts to your unique voice and environmental variations – even while you're dictating – to deliver new levels of personalized accuracy and productivity. This optimal accuracy is achieved even for speakers with accents and in slightly noisy environments. This means that Dragon understands you, and you get things done faster than ever. And when you do need to make a correction, Dragon learns, making it more accurate the more you use it.
Simplified Menus and Option: Enjoy using a simplified Dragon bar and streamlined interface that eliminates complex menus and options, so you can quickly select the options you need and start turning your voice into text using Dragon right away.


Playback Mode: Now with the ability to select a block of text and "play that back" listening to your own voice, Dragon Home makes reviewing and editing your content a breeze. Listen to your dictation while proofreading your document and make edits and corrections faster as you become even better with your dictation.
Ignite a more enjoyable pc experience
Dragon Home takes your spoken words and intelligently transcribes them into text. Simply speak and watch your words appear on your computer screen. The software is easy to install and simple to use and makes even mundane PC tasks faster and more enjoyable.
Ignite creativity by capturing your spoken thoughts
Transform your ideas into text at the speed of thought; don't let typing, touch screen PCs, spelling, or fear of the blank page slow you down. Simply speak and let Dragon capture your thoughts quickly and accurately, so you'll never lose track of another great idea.Capture your thoughts quickly and completely, without having to keep your eyes fixed on the screen or hands on the keyboard.
Ignite productivity by turning talk into text
Turn talk into text - three times faster than typing - with up to 99% recognition accuracy right out of the gate. Create and edit documents, dictate homework assignments, send emails, update social posts and more. Dragon Home adapts to your voice and the words you use to deliver better recognition results over time. You can even have Dragon learn new words as you make document corrections. Dragon also adapts its format rules by detecting your format corrections – abbreviations, numbers and more — so your dictated text looks the way you want it to every time.
Ignite convenience by using your favourite applications
In addition to Dragon Pad, the built-in text editor, you can use Dragon Home with popular Windows applications. Dictate documents with Full Text Control in Microsoft Word, send email in Microsoft Outlook, search the Web using Internet Explorer or Mozilla Firefox or Google Chrome, post to Facebook or Twitter and more - all by voice.
Ignite comfort and freedom
With Dragon Home, you can help prevent repetitive stress injuries by using your PC in a comfortable, ergonomic way without being tied to your keyboard and mouse. Launch applications, select menu items, "press" keys and switch from one window to another using simple voice commands. You can even select from multiple microphone options, including Bluetooth, plug-in headset, or even the microphone built right into your Windows PC/tablet.
System Requirements
The install process checks that your system meets the minimum requirements; if they are not met, Dragon NaturallySpeaking will not be installed.
Note
Closing all programs before installing is recommended. In addition, consider shutting down and restarting your computer before an installation
Non-medical editions of Dragon do not support dictation directly into Electronic Medical Record (EMR) systems – for EMR support, please use Dragon Medical Edition
RAM
Minimum 4 GB & Higher RAM is recommended
CPU
Intel® dual core or equivalent AMD processor. Faster processors yield faster performance.
Processor Cache
We recommend 2 MB L2 cache. (Minimum: 512 KB)
Free hard disk space
8 GB
Supported Operating Systems:
Microsoft Windows 7, 8.1, and 10 (32-bit and 64-bit)
• Internet Explorer 11 or higher, or current version of Chrome or Firefox
• Sound card supporting 16-bit recording
• An Internet connection is required for automatic product activation (a quick anonymous process) and to access online help.
• Built-in microphone or a Nuance-approved microphone. See support.nuance.com/compatibility/ for more information.