Whats New

Overview

Features

Tech Spec
Transcribe, edit and write all by voice
Dragon Dictate for Mac, version 4 merges fast, accurate speech recognition and versatile transcription to fit the way you work. Dictate and edit documents, send email, transcribe voice memos from your smartphone, and more with just your voice.
Powerful Transcription

---
Supports Various Formats : Now transcribe from .mp3 audio files. Other supported formats include: .aif, .aiff , .wav, .mp4, .m4a, .m4v.


Capture Recorded Notes : Accurately transcribe based on recorded sources instead of requiring training from a live source.


Manage Multiple Sources : Allows for multiple transcription sources and easy transition between personal dictation and other transcription files.


Blend Recordings Seamlessly : Easily transcribe your own voice memos from a smartphone or portable voice recorder into text and seamlessly mix and match transcribing from other recording sources.


Customize Your Notes : You can keep all the customization and vocabulary from your profile without having to switch out to a different profile.
---
More Control
---
Do more with Gmail : Control your Gmail inbox within the Safari or Firefox browser with a few simple voice commands. Full Text Control lets you mix your talking and typing and still be able to edit, correct and format your text using voice commands.


Go hands-free : Use your voice to click on any visible link and to open emails.


Type or Talk : Mix talking and typing with Full Text Control in Apple Pages 4.3.
---
More accurate and faster
---
Higher Performance : Get things done with drastically reduced latency and faster editing. As a pure 64-bit application, Dragon Dictate for Mac, version 4, now enables higher performance and improved memory management capabilities over previous versions.
Enhanced Recognition : Improved accuracy over version 3.x, with optimization for latest speech recognition technology.
Dragon Dictate Mobile, Speech Recognition For Mac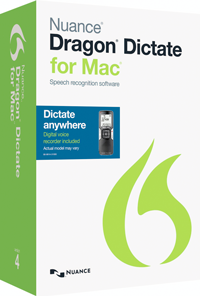 Dragon Dictate 4.0 for Mac Simply Smarter Speech Recognition With Dragon Dictate for Mac, accomplish more than you ever imagined possible. Input text just by speaking - up to three times faster than typing – and interact with your favourite Mac applications using only your voice. With Dragon Dictate you can produce reports, e-mail, articles, books, research notes, online content, and more - quickly, easily, and accurately. You'll get more done faster with less stress and more success - at home, at work, or wherever life takes you. Dragon Dictate provides amazing accuracy and requires just minutes of training to get started - it's Simply Smarter Speech Recognition.
The benefits
Speed
Dragon's faster than ever. By taking advantage of the latest multi-core processors, correction and editing are easier.
Accuracy
Now with up to 99% accuracy, Dragon Dictate understands you so you get your words on the screen the way you intended.
Convenience
Dragon has been tested on virtually all the apps and programs you use, so you can do what you want to do without a second thought.
Usability
Dragon is naturally intuitive, it doesn't take time to learn. It works almost out-of-the-box so you can start saving time sooner.
Advanced correction.
Correcting a word or phrase is a piece of cake. Dragon 12 includes more choices to make it quicker and easier to make a change.
Vocabulary Editor
With the ability to set alternative written forms of words or phrases (e.g. color vs. colour) in Dragon Dictate for Mac 3, you have more say over how your words appear.
Enhanced Bluetooth Support
Dragon Dictate for Mac 3 adds support for wideband Bluetooth wireless headset microphones, and you can get up and running quickly. When it detects that the USB dongle of a certified microphone is plugged into the Mac, Dragon Dictate offers "Enhanced Bluetooth" as an audio source type and does not require a script reading to get started.
Interactive Tutorial
Displayed at the end of profile creation and available at any time from the Help menu, the Interactive Tutorial in Dragon Dictate for Mac 3 offers short progressive simulations to help you practice good dictation, correction and editing habits so that you can create text efficiently within just a few minutes. Even experienced Dragon Dictate users can benefit from the Interactive Tutorial.
System Requirements
RAM
2GB recommended
CPU
Intel-based Mac computer (2.2 Ghz Intel Core2 Duo processor or greater recommended)
Operating System
OS X Lion (10.7) or OS X Mountain Lion (10.8)
A DVD-ROM drive for installation
A Nuance approved noise cancelling headset microphone for Mac (included in purchase)
Note
An Internet connection is required for automatic product activation (a quick anonymous process)