Overview

Features

System Requirements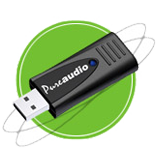 Increase intelligibility and performance of microphone input and stereo speaker output with patented noise reduction technology enhancing your digital audio applications.
Your headset, microphone or speakers will perform only as good as the sound card or integrated audio system that you plug into. Most laptops and PCs today have audio systems built in and it is often placed close to noisy components like the power supply or high frequency processors. In addition, PC's may be used in high noise level environments which can affect the performance of applications, such as those that use speech input.
Andrea's PureAudio™ USB-SA with patented noise reduction technology eliminates noise problems as it utilizes high quality digital circuitry and has state of the art noise reduction algorithm software. This format bypasses your desktop or laptop computer's sound system, providing increased intelligibility and performance of stereo microphone input and stereo speaker output for all of your digital audio applications including VoIP and speech recognition programs.
Product Features
Hi-fidelity external sound card with CD quality digital sample rates.
Converts the built-in sound of the average desktop or laptop into a rich audio experience designed for PC users who insist on high quality/low noise audio.
Includes Andrea's complete PureAudio™ Voice Solutions Software Suite.
Small form factor, about the size of a thumb drive, is convenient for portability with audio peripherals.
The USB adapter enables the audio device driver platform which supports the Andrea PureAudio noise reduction technology and Andrea hardware peripherals. Can also be used to enhance ANY existing legacy headset, microphone or speakers.
System Requirements
Compatible with:
Windows 98 SE, 2000, XP, Vista
Apple: Mac OS9/X (without Andrea Software).