Overview

Key Benefits

Tech Spec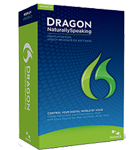 Dragon NaturallySpeaking Premium 12 gives small business users and PC enthusiasts the power to create documents, reports, e-mails and more; all by speaking! Fast, easy and amazingly accurate, its over three times faster than typing. Just use your voice to dictate and edit in Microsoft Word and Excel, Corel WordPerfect, and virtually all Windows-based applications. You can even dictate into a handheld device when you are away from your PC, or use a Bluetooth microphone! Its never been easier to use no script reading required, so you can get started right away!.
When you use Dragon Naturally Speaking Premium 12, it will change the way you think about PCs. You'll be faster, and have more fun, as you create letters, reports, and e-mails all by speaking. Just talk, and you can surf the web, open and close applications, even control your mouse and the entire desktop!
AMAZINGLY ACCURATE!
Dragon NaturallySpeaking 12 is up to 99% accurate, and often more accurate than typing. Dragon NaturallySpeaking never makes a spelling mistake, and it actually gets smarter the more you use it!
FASTER THAN TYPING!
Most people speak over 120 words per minute, but type less than 40 words a minute. Dragon NaturallySpeaking lets you create letters and e-mails about three times faster than typing by hand!
SO EASY TO USE!
You'll be dictating letters, e-mails and surfing the web by voice right away! No script reading required to get started. We even include a full set of on-screen tutorials, and a Nuance approved free noise-canceling microphone.
USE WITH ANY WINDOWS PROGRAM!
Use your voice to dictate, edit and control applications like Microsoft Word, Microsoft Excel, Microsoft Internet Explorer, and Corel WordPerfect.
A BEST SELLER AROUND THE WORLD
Dragon products have won over 175 major awards for accuracy and ease of use, and are used by more people around the world than any other speech recognition software.
BLUETOOTH SUPPORT-PLANTRONICS CALISTO OR REVOLABS X-Tags OR Andrea BT-201
Use Dragon NaturallySpeaking with Nuance-approved Bluetooth headsets. (Sold Separately).
MOBILE
Dictate into any Nuance-certified handheld device for automatic transcription when you synch with your PC. (Sold Separately).
System requirements
RAM
We recommend2 GB for 32-bitWindows XP, Windows Vista, Windows 7, Windows 8 and Windows Server 2008,4 GB for 64-bitWindows 7, Windows 8, Windows Server 2008, and Windows Server 2012.(Minimum:1 GBfor Windows XP and Windows Vista, 2 GB for Windows 7, Windows 8, Windows Server 2008, and Windows Server 2012).
CPU
We recommend2.2 GHzIntel®dual core or equivalent AMD processor.(Minimum: 1 GHz Intel Pentium®or equivalent AMD processor or1.66 GHzIntel Atom®processor).Faster processors yield faster performance. IMPORTANT: SSE2 instruction set is required.
Operating System
Windows 8, 32-bit and 64-bit
Windows 7 SP1, 32-bit and 64-bit
Windows Vista SP2, 32-bit and 64-bit
Windows XP SP3, 32-bit only
Windows Server 2008 SP2, 32-bit and 64-bit
Windows Server 2008 R2 SP2, 64-bit
Windows Server 2012 Standard Edition, 64-bit